The 60's has always been one of my favorite fashion decades. It was most definitely one of the most revolutionary where fashion is concerned. The miniskirt, hot pants, and colored & patterned tights were created by the amazing Mary Quant, bright colors and patterns were widely worn, and the "mod" look was all around. Skirt hemlines dramatically rose and wild colors were everywhere. Ready to wear was introduced by Pierre Cardin, Mary Quant created the youth movement, Yves Saint Laurent was opened, and Emilio Pucci made his first clothes for the chic jet setter with his colorful, psychedelic prints. The 60's inspired look has always been in, and more than ever right now. Here's what to look for when you're going for a 60's look-
The Trends:
- mod
- short skirts
- crazy colorful prints
- bright colors
- tall boots
- babydoll dresses
- mirrored detail
- Mary Janes
- shift dresses
- patent leather
- tights
The Icons:
- Twiggy
Twiggy, the first "waif" supermodel, pretty much created the mod style, with jumpers, minidresses, and bright tights. She was sophisticated and classy with her style, and always looked chic.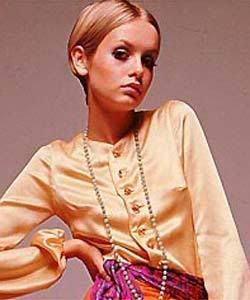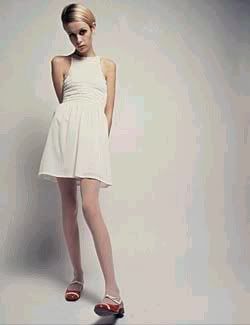 - Edie Sedgwick
Edie's style was thrown-together, effortless chic and glamorous, big earrings, bold eye makeup and opaque black tights. She had dramatic accessories, mod minidresses with an eclectic edge, and her signature black tights with boots and heels.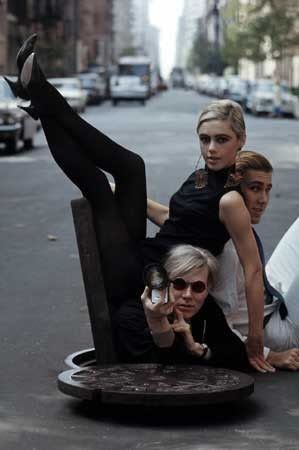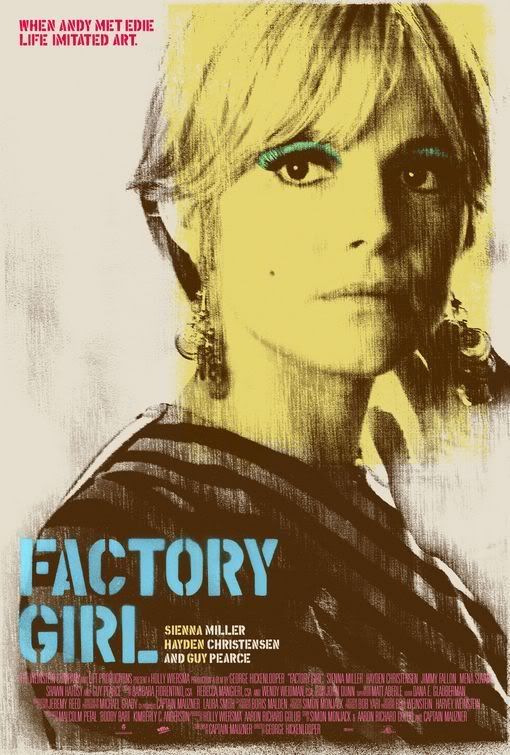 Factory Girl, the movie about Edie's life, starring Sienna Miller...
- Jacqueline Kennedy
The most elegant and glamorous first lady there ever was, Jackie Kennedy was the epitome of style in the 1960's. Her style signatures were her oversized sunglasses, while all of her outfits had clean lines and soft, simple colors. She always looked impeccably put together, even in her jeans and a sweater (second picture). I highly recommend the book 'Jackie Style'.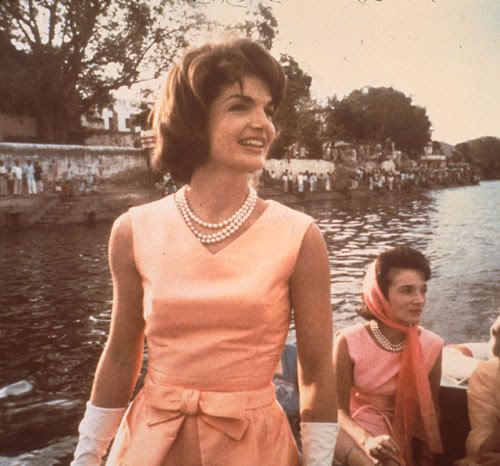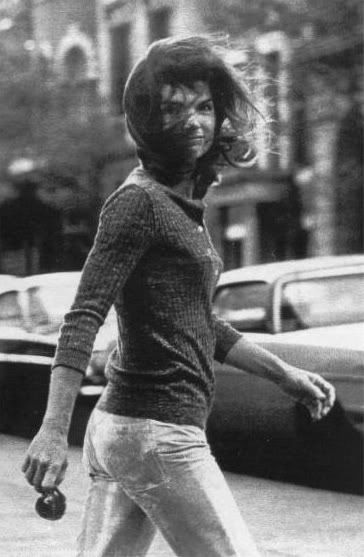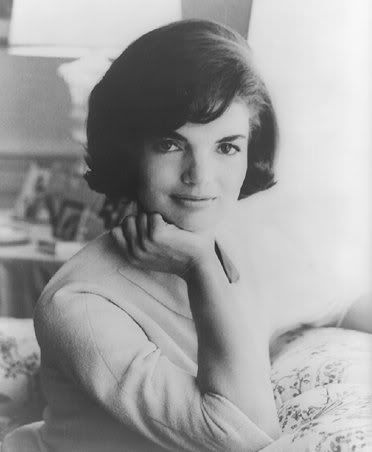 - Mary Quant
The fashion designer who revolutionized 60's fashion. As I said before, the miniskirt, hot pants, AND patterned tights were her lovely creations. Her clothes were part of the Swinging London era, the perfect clothes for chic Londoners with a quirky style.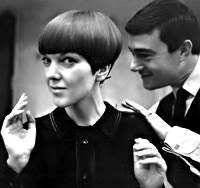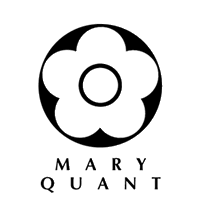 Now onto what you've all been waiting for- the clothes. 60's inspired is everywhere, and I found the greatest 60's-esque clothing- hope you enjoy.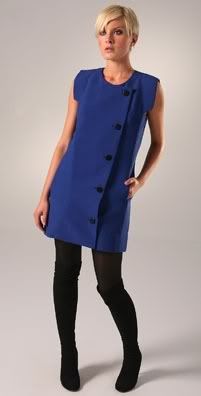 This bright color paired with the simple buttons gives off a definite mod vibe. It's by Jill Stuart, who, surprisingly, had a lot of great sixties pieces.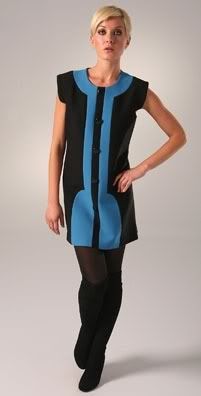 Another gorgeous Jill Stuart dress- everything about this is so 60's-like- the bright color contrast, the button front, and the sleeves.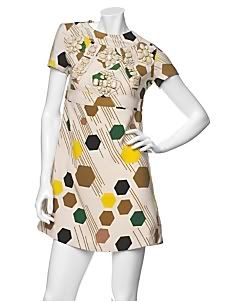 This Karta dress (Karta is one of the brands where I found tons of amazing pieces that look so 60's, along with Paul & Joe and Jill Stuart) from Intermix is perfect, with the bright print and subtle embellishment.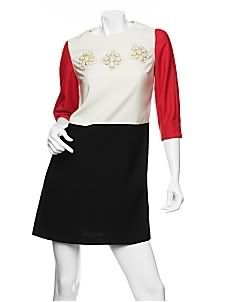 A fabulous Karta dress with simple, chic colors and their signature embellishment. The A-line skirt is what makes this dress so adorably sixties.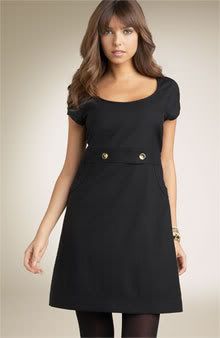 This simple Juicy Couture shift from Nordstrom is perfect. The two gold buttons are a blend of military-esque and 60's mod.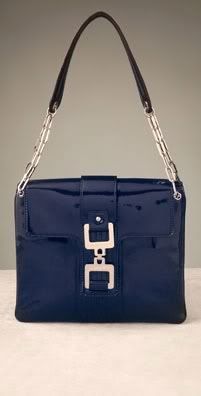 An elegant navy patent leather Jill Stuart handbag.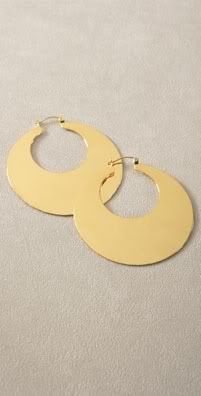 These Bing Bang earrings are so Edie Sedgwick- one of her trademarks was her huge earrings.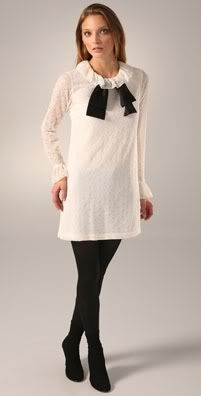 This sweet Karen Zambos dress is conservative but still so sophisticated and pretty.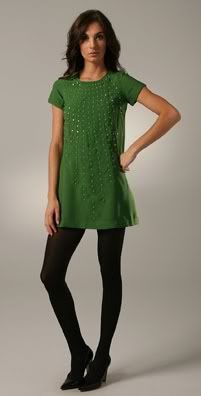 More Karta! I love this bright green (so glad to see a return of this- seriously, I haven't seen green in forever!) studded dress, especially paired with the black tights.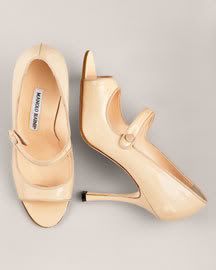 Mary Janes were big in the 60's, and these fleshy pink patent Manolo Blahniks are a more modernized version.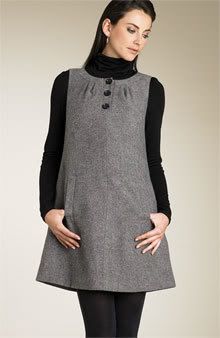 A classic mod style- the jumper. This MICHAEL Michael Kors one from Nordstrom is so adorable- I love the gray wool.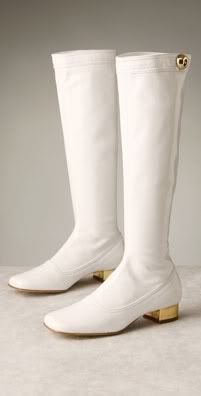 In the 60's, you had to have your patent leather boots. These white Paul & Joe ones are so Parisian chic in the sixties.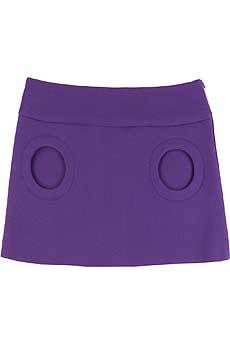 This purple Paul & Joe mini is so 60's Paris- the circular pockets are adorable!
The turquoise is fabulous, too.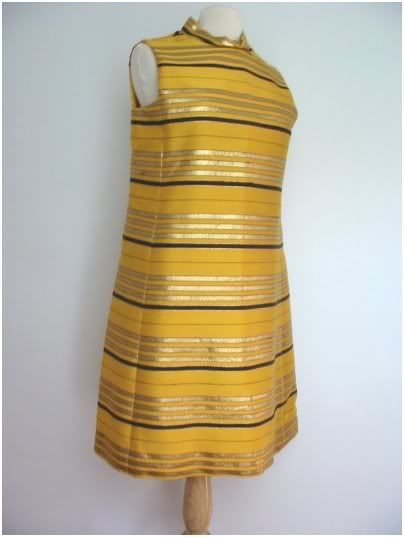 This vintage Saks Fifth Avenue dress from Mirror Mirror Vintage is amazing- I love the colors and the simple A-line silhouette.
This Karen Zambos dress is metallic, but has the effect of being mirror-covered, a big trend in the 60's. This looks so sleek and cool with black tights.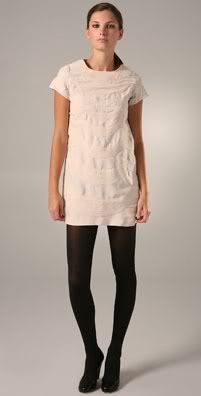 Another Karta...this cream colored scalloped dress is so Jackie O.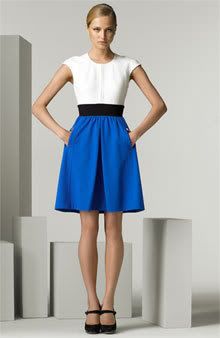 This Tracy Reese dress from Nordstrom has the bright color blocking of the 60's dresses- it's a more modern version.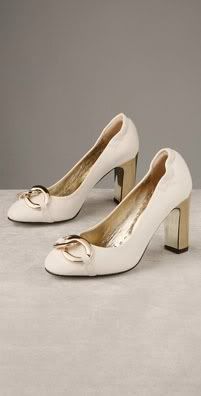 These sleek ivory pumps by Juicy Couture also have a Jackie Kennedy feel to them- they are really sophisticated and elegant.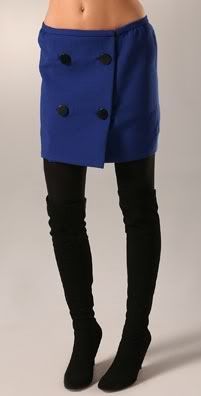 This cobalt blue Jill Stuart mini is really mod, thanks to the contrasting black buttons.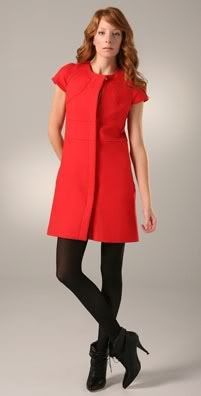 Love love
love
this bright red Paul & Joe dress- the tailoring is impeccable, and it looks amazing with tights and ankle boots.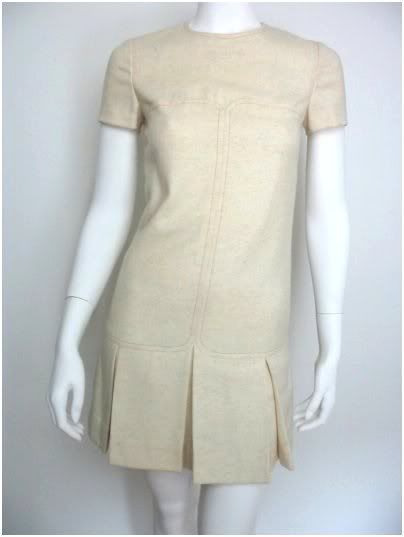 This vintage wool minidress is from the 1960's, from Mirror Mirror Vintage, and is totally adorable. I love the idea of mixing it with bright tights and colorful jewelry to make it more modern.
THIS IS THE LAST KARTA, I SWEAR!
And I love it. Mixing the mod shape with the modern color is genius.
This turquoise Tibi dress is adorably Parisian-girl-chic, definitely with tights.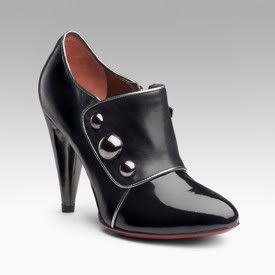 These Jonathan Kelsey ankle boots look great with bright colored tights and a cute minidress for a 60's look.
I love this dove gray Paul & Joe jumper- simple and retro-chic.
Hope you enjoyed.
xoxo
fashionista