Tribal inspired jewelry and accessories are huge for summer. Earthy colors like gold, brown, and beige paired with shapes like horns and leaves, make a big statement. Designers like Kenneth Jay Lane, Roberto Cavalli, Stella McCartney, and Matthew Williamson are all jumping on the trend. Here are a few of my favorites, all from Net-a-Porter: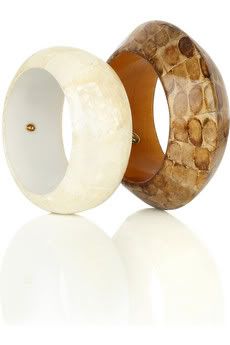 This set of bangles are the perfect blend of upscale elegance meets an ethnic influence. They are so versatile and can be worn with your summer dresses, jeans, or shorts.
I adore these. The colors are so bright and you can mix and match all the colors. You could wear the orange and blue for a unexpected combination, or the yellow and black for a simpler one. The possibilities are endless.
I love this hammered coin necklace. It's both a Grecian-inspired look with a tribal feel as well. It adds elegance to
anything
, be it a gown or a t-shirt and shorts.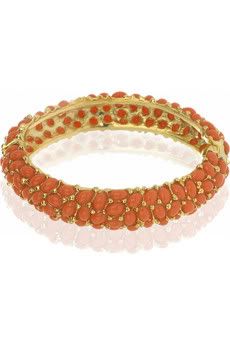 This Cabochon bangle is also a great choice for summer. The orange color is really versatile and can work in the daytime or evening. It looks great alone or with other bracelets and can go with so many summer trends.
The lightweight scarf is a staple for summer 2008, and this one is fabulous. Scarves have so many possibilities and can completely change your look just by the way you tie it. You can use this as a head scarf a la Nicole Richie 2005, tie it around your neck for a chic Parisian girl feel, really anything you want. I love the ethnic pattern on this one, with the girlie light blue added.
This horn pendant is the epitome of tribal jewelry. It looks gorgeous with other pieces that fit into the tribal trend, like billowy tops in ethnic patterns.
This cocktail ring is so pretty. It has a vintage and tribal feel to it, in a way. The purple stone is gorgeous and this ring would go with any outfit.
The leopard ring is another ring that I am attracted to. I'm not usually one to love leopard, but this modern interpretation of it is so stylish.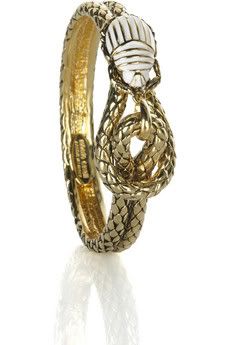 These two coiled serpent bangles are edgy and have such a chic ethnic influence to them. The detail on these are incredible. It's so glamorous.
This gold leaf necklace is another vintage-tribal look. The statement necklace is a fabulous piece, and this one is a bit more subtle version of it.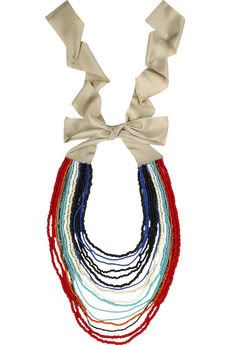 I love this beaded necklace. It looks like a perfect replica of the necklaces that African women hand-make, and the adjustable silk fastening makes it more upscale.
Matthew Williamson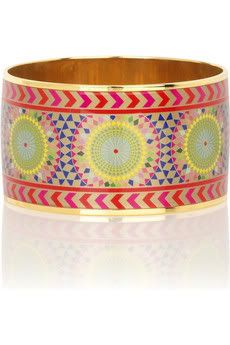 I'm in love with this bangle. The colors are so beautiful and rich, but the print is really what makes it. This would complete any tribal-inspired outfit.
Zoe & Morgan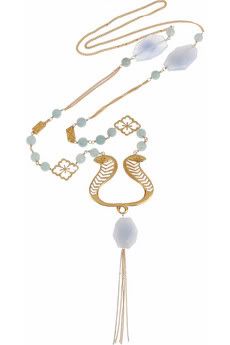 This mix of color and shapes really makes me love this necklace. It works with any outfit, whether it be ethnic inspired or not. I love it!
Isharya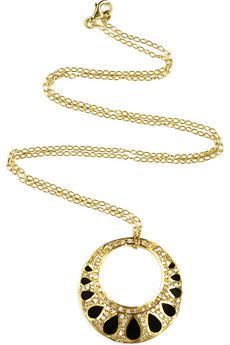 This has a tribal feel when you first look at it, but if you see closely, it has tiny gems lining it, which gives it a more modern look. This would look fabulous with a little black dress to give it more pop.
xoxo
fashionista