The holidays are almost here (well...the decorations are up)! What comes to your head when I say 'holiday fashion'? Probably the dreaded Christmas sweater and Santa hat. Let's try to change that, shall we? Holidays can also mean very stylish and chic parties, with dresses to match. ShopBop is party dress heaven, so I sifted through all 115 pages of ShopBop's dress section (I love you THAT much) and found the best holiday party dresses. The holiday dresses are always sleek and glamorous, with subtle embellishment and clean lines. Sequins are always fabulous to make a splash as well. The color palette is mostly quite subtle, mostly whites, blacks, or metallics, but a burst of rich color like hot pink or purple is also very common. Any of these options and your dress is sure to be the best at the party.
**NOTE: all of these dresses look FABULOUS with black tights**
This adampluseve dress is pure glamour. The slight sequin embellishment, only at the hem and top, is so youthful meets sophisticated, and the middle part is sleek and chic.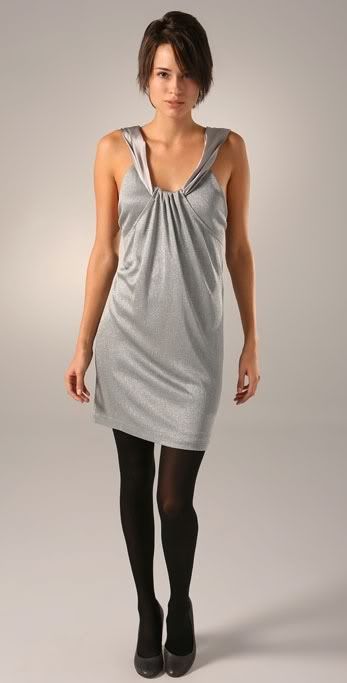 Another fabulous adampluseve number. This is simple and modern, the straps looped through the top is genius and looks so clean. This metallic-y blue color is so pretty.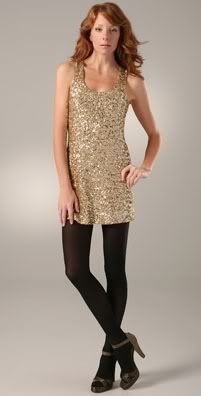 This Alice + Olivia is so gorgeous- simple but still making a huge impression. You can throw a black cardigan over this to keep warm and still look great.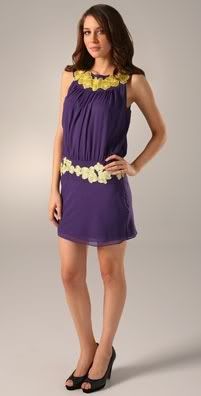 Catherine Malandrino dresses are party perfection. This purple dress is reminiscent of a modern Grecian goddess, with the detailing at the neckline and waist. The ruching is beautiful, too.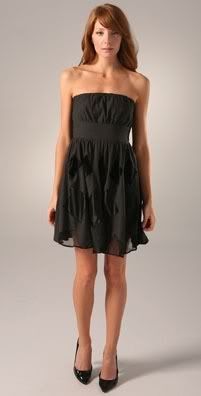 I just found out about this line Dallin Chase, but the dresses are perfect for any party. This one is elegant and simple. I love the subtle drapes at the bottom. The soft drapes or ruffles are a trend to look for with the holiday dresses.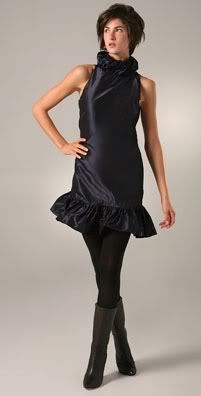 This Samantha Treacy dress is GORGEOUS. The neckline, the ruffled hem, it's so chic. The metallic navy color is so rich and really stands out among basic black and gray.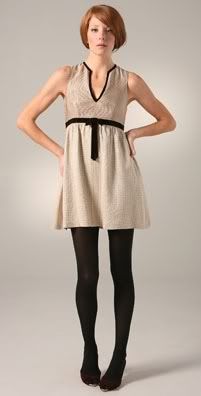 I tried this Alice + Olivia dress on about a month ago, it is amazing. It has tiny metallic thread sewn into it, so you have a subtle shimmer. This dress is so sophisticated but still really fun.
I adore this Cynthia Rowley number- the color is great. This is an unexpected, but totally gorgeous, choice for a holiday party. It's mod and 60's inspired, I love it's simplicity.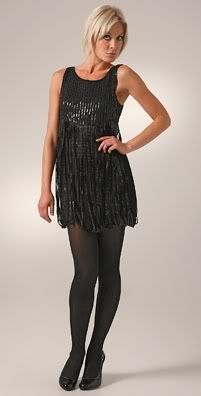 More fabulous Alice + Olivia! This dress is reminiscent of a modern flapper, with the sequin ribbon banding all the way through. So glamorous...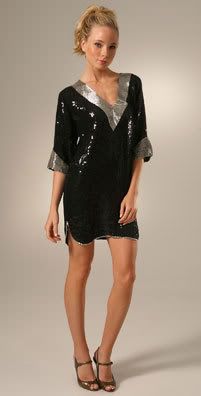 I love this Foley + Corinna dress. It's loose and comfortable, while still retaining the glamour and chic statement.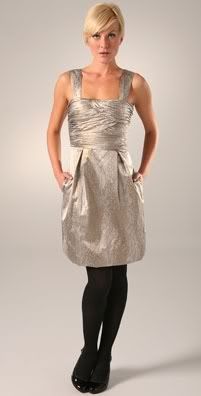 Diane von Furstenberg- the root of all fabulous party dresses. The color is great, the sort of metallic silver meets a bit of beige. The ruching detailing on the bodice is absolutely beautiful, and I love the slight balloon hem of the skirt.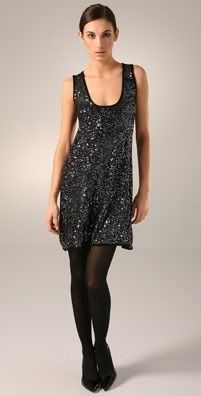 A pretty and simple sequin tank dress by Graham & Spencer, a sleek and streamlined option for a holiday party.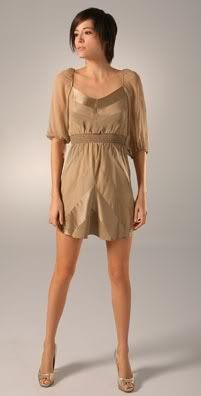 This Dallin Chase dress has such intricate detailing- the satin, chiffon, silk, and tulle chevron banding is fabulous and feminine, while the sheer sleeves add a provocative touch.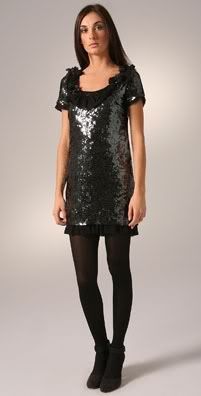 The flower and ruffle neckline on this beautifully detailed Hanii Y dress makes it incredibly unique.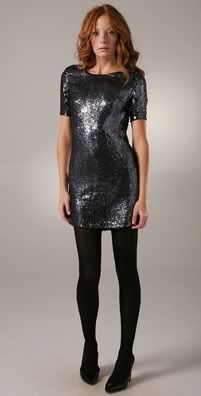 This slim, fitted sequined t-shirt dress by Miss Davenporte gives the illusion of molten sequins, it's so gorgeous, and the color cannot be beat.
Okay, up until now, it's basically all been metallics/sequins, which is the most common for holiday party dresses, but these colorful or detailed dresses make a big splash and are completely gorgeous.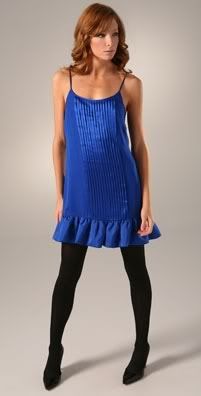 Julie Haus is a great up-and-coming designer, and this simple and chic dress showcases her talent. I love the ruffled hem and pleated front.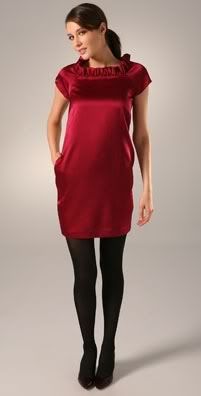 I love when a dress is completely simple with one significant detail, like this ruffled neckline on this Laila Azhar dress.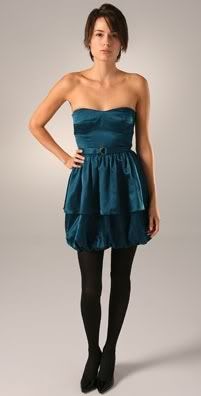 Another beautiful Laila Azhar dress- layered, strapless, turquoise...my kind of thing.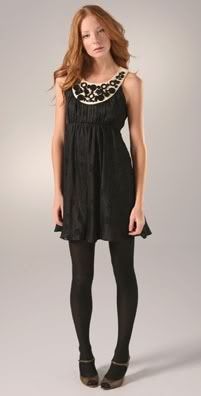 I love the graphic neckline on this Milly dress.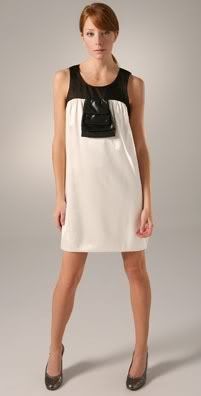 Simple. Chic. Of course it's Mint.
Oh my gosh, I sound like the ShopBop descriptions. What has come over me?
This Sea dress could be one of my favorites on here. Sequins and satin are both such glamorous fabrics, and together they are one show-stopping dress. It's conservative, but still sensual.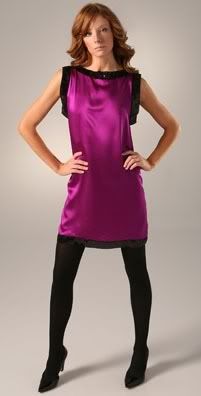 I love the color and sequin trim on this Sunner dress.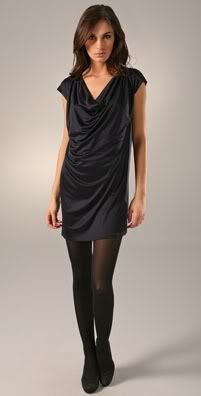 This Susana Monaco dress has gorgeous draping, one of my favorite details on dresses for any occasion.
This Tibi dress has a fabulous metallic print that's bold and attention-grabbing.
xoxo
fashionista
p.s. thoughts on the new header? i change it so much, but i cannot stay with one for too long! please excuse the bad photoshopping- thats not really my niche...