I love color. It just makes everything better, and when I started to notice this trend of mixing bright colors, I was so excited. The bright color mixing trend is fabulous, in my opinion. It can never look boring, always cool and unexpected. I first saw it in J.Crew's catalog and their website, where they mixed their bright tissue tees with colorful skirts and belts, like these:
Ahh! So cute. I never would have expected turquoise, saffron yellow, and hot pink to work together, but it does perfectly!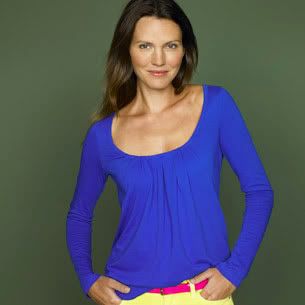 You can only see a sliver of the yellow, but the combination looks great.
I love the bright layering J.Crew has too- chartreuse, yellow, hot pink, AND cobalt blue? Really...how does J.Crew make that work?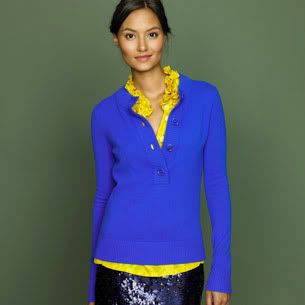 Wow...my obsession with cobalt blue and yellow has been renewed...
The brights have also been seen on the spring '08 Fashion Week runways:
Tracy Reese:
Tracy fearlessly mixes a black and white graphic print, coral pink, and yellow together and it looks fabulous.
Marc by Marc Jacobs:
Bold and unique, totally Marc.
Missoni:
I love the shade of this orange blouse, it coordinates perfectly with the pink jacket and black shorts.
Phillip Lim:
These are two simple silhouettes, but the bright yellow and blue make it so cool...
Versace:
Who knew orange shorts could work with a dainty pink top?
Emilio Pucci:
This gorgeous pink and orange gown is both elegant and fun.
Some other examples of the fabulous bright mix trend is Catherine Malandrino's yellow cardigan over her floaty purple dress:
This AKA New York dress with a colorblocked hem:
A gorgeous chiffon Chris Benz dress, with unexpected orange and purple layers: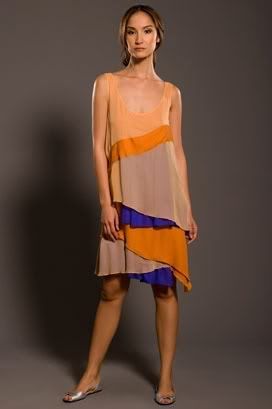 And this Zimmermann dress with a fantastic bold print:
This totally inspires me...
Next time, instead of going for a black or gray sweater, tights, or jewelry to accent your outfit, try a coordinating bright.
xoxo
fashionista