Ahh...mom jeans. Oh, the tragedy. Unflattering, unattractive, just plain ugly.
This SNL skit never gets old. EVER. "She'll want to wear them with everything, from a soccer game to a night on the town."
While on Urban Outfitters (everything there is either horrifically ugly or absolutely gorgeous...this is choice 1...), I found this vest that was very, VERY similar to the vests shown in the mom jeans commercial...haha.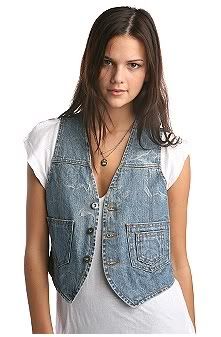 Never wear this, please. NEVER WEAR THIS.
xoxo
fashionista